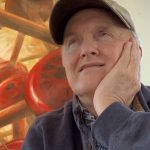 About my Journey
My paintings are most often reflections and memories of personal experiences. I hope they add some joy and beauty to the world.
I try to stay open to awe, wonder and unknowing. The things that make ourselves less important and everything/ everyone else more important.
I was born in South Dakota, raised mostly in upstate New York but have spent my adult life in in Indiana. Over the years my jobs have included bailing hay, grocery carry out, life guard, factory work, high school teaching, university teaching, illustrator , artist.
My fly fishing addiction has affected work, family and every aspect of life. mostly in good ways. : ) More about my art process and thinking.